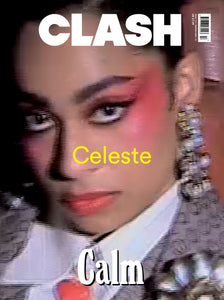 Issue 117 - Celeste
Purchase this issue as a digital publication.
Remarkable BRIT-adorned chanteuse Celeste is the third face of Clash 117.
The soulful vocalist opened 2020 on top of the world - the only trouble was, the world was about to change... 
Forced to look inwards by the pandemic, she responded by amplifying her need to communicate, examining every facet of her being on a persuasive, gloriously soulful debut album. 

Her journey is marked by self-examination, while her story is one that will resonate in each of our lives. 

"If you make sense of yourself, then you make sense of other people… that's what I think."
Also featured in this issue is Arlo Parks, Ty Dolla $ign, Roisin Murphy, Backroad Gee, Zara Larsson, Enny, sleaford mods, Hope Tala, Oliver Malcolm, Baby Queen, and more. Other covers to follow this week.
Pre-order Issue 117 now. Clash 117 will be shipped to your home in fully recyclable zero-plastic packaging from 26th January 2021.
Words: Robin Murray
Photography: Aidan Zamiri
Fashion: Ella Lucia
Creative Direction: Rob Meyers