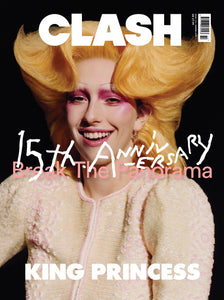 Issue 114 King Princess
Creativity is compromised when you try to encase it in a box. Life is too short and much too rich with choice and temptation to ever be limiting oneself to the confines of another person's definitions.
The six cover stars of Clash 114 are each too big for any box, committing themselves instead to a singularly intuitive and inspirational path of their own design, and the fifth of those cover stars is no exception. 
Pop's progressive paradigm King Princess is part of a new wave of artists who are grabbing their queerness by the horns and shouting about it, as we all should. Previous tracks like 'Pussy Is God' have spotlighted her as someone who isn't afraid to speak openly about gay sex and romance. We're living in super sexually charged times where both political leaders in the UK and the US are grotesquely horny cis-white straight men - King Princess' music is an antidote to that and it seeks to sexually empower queer young people.
"I'm making music where there's no uncertainty about my sexuality," she tells Clash. "I'm also writing about bitches who are gay; it's not like I'm writing about a wavering straight bitch. I think that it's time and I think that it's really important that our narrative doesn't include that male gaze that has always been [there], because you can always feel when something has been tainted by straightness. You know when something feels diluted; it doesn't make any sense to me and it's not interesting to me."
Also featured in this issue is Tame Impala, HAIM, Denzel Curry, Halsey, JPEGMAFIA, AJ Mitchell, Lolo Zouaï, Patti Smith, Nick Mason, Akon, Pop Smoke, Maisie Peters, The Beatles, and many more. Final cover to follow today.
**Please note: Shipping from December 16th 2019.**