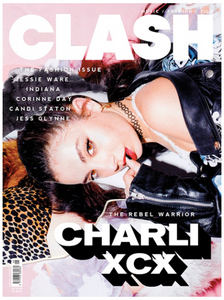 Clash Issue 98 Charli XCX
Regular price £1.10 £6.99 Sale
In this issue you'll find yourself considering the advantages of neglecting any notions of what's cool in favour of following your gut and asserting your own independent form of expression. It's what, you'll discover, drove Charli XCX to the top of the charts on the other side of the Atlantic.
By the time you get to Charli's cover story you'll be halfway through the magazine. You'll have noticed the strong female presence throughout the music section: Jessie Ware, Indiana and Rae Morris are holding up the music side of things, with disco legend Candi Statondropping in with some well-heeled (or should that be well-platformed?) advice, while we celebrate the work of designer Louise Alsop and the late photographer Corinne Day. (Not forgetting the boys, we have The Horrors'Faris Badwan in conversation with menswear designer Charlie Casely-Hayford, a classic album Spotlight on The Notorious B.I.G., and we catch up with The Bug in Electric Selection.)
Also in this AW 14 Fashion Special: 34 pages of stunning Clash Fashion, including Collections - 14 pages of essential contemporary looks from the world's biggest and coolest brands.