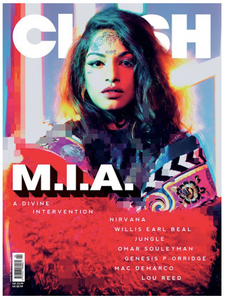 Clash Issue 90 M.I.A.
Regular price £1.10 £6.99 Sale
From last month's jaunt to the vibrant Planet Pop we've careered to the periphery of music's vast universe to uncover more outsiders and edgy agitators intent on penetrating our collective subconscious. This month, we bring you a selection of artists who provoke, be that minds, conversation or lawsuits, and in turn hope it inspires you to action, in whatever form that may take. Perpetual crusader M.I.A.
leads the pack, paving the way for our own mini uprising. Vive la revolution!

Elsewhere... 
On the promo campaign for their third and final album, 'In Utero', Nirvana spent the day in New York with photographer Jesse Frohman, who captured the trio in uniquely intimate circumstances, and fated singer Kurt Cobain in a relaxed yet revealing state of mind. Here, Frohman remembers that unforgettable November day.

Plus: Letters To The Edge, Willis Earl Beal, Genesis P-orridge, Mac Demarco, Omar Souleyman and more.