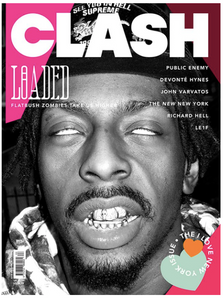 Clash Issue 83 The 'I Love New York' Issue
Regular price £1.10 £6.99 Sale
In a city that breathes innovation, where creatives breed in every derelict warehouse, there's a palpable smack of excitement in the New York air to anyone with a pinch of interest in the future of the Arts. In this issue, Clash investigates what makes the Big Apple so massive.

Our first cover star is Chuck D. Twenty-five years after their sophomore masterpiece, 'It Takes A Nation Of Millions To Hold Us Back', Public Enemy's outspoken frontman is no less uncompromising and still incisive. Clash finds the hip-hop legend with both barrels pointed at big business.

Our other cover features Flatbush Zombies. Coming through in a rush of young artists heading up the East Coast hip-hop revolution, the Zombies' unique breed of drug-induced fantasy rap is on a high all of its own. Clash meet the Brooklyn boys in their hometown to talk acid, influences and diseases.

Plus: Dev Hynes, John Varvatos, the New York creatives of 2013, Le1f, Lion Babe, The Underachievers, Kilo Kish and more.