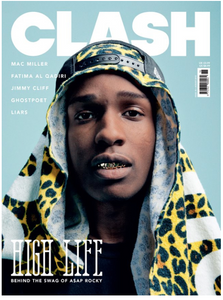 Clash Issue 76 ASAP Rocky
Regular price £1.10 £6.99 Sale
This month's Clash features dual covers, in their inevitable collectable form. One, the saint. Another, the sinner.

Our cover star is the flyest kid to come out of Harlem since Puffy: A$AP Rocky. Producing purple-hazed tracks reminiscent of the Deep South whilst simultaneously taking over the fashion world, we chat to him about cough syrup, fine art and how he's more than just a rapper.

Elsewhere, remix albums have got a bad rep. Just ask Fatima Al Qadiri, the Kuwait-raised/Brooklyn-based artist whose latest EP 'GSX Remixes' should erase memories of Rihanna's 'Rated R Remixed' forevermore. "I'm interested in the remix album format cos it's this hangover from the '90s," she says. We meet her in a fiery interview.

Jimmy Cliff is all about the circles. He's possessed by the rhythm of the world and seems self-perpetuating in his quest to relentlessly spread good vibes. He's back with a new LP called 'Rebirth', which is somewhere between his 28th and 33rd long player.

Plus: Mac Miller, Ghostpoet, Liars, Moritz Von Oswald Trio, James Yorkston, Efterklang, Tom Jones and more.