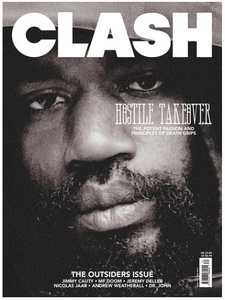 Clash Issue 74 Death Grips
This special themed issue of Clash focuses on outsiders. The names which follow can only scrape the surface of the legions of artists who didn't or don't play by any rules except their own; either on a mission to upset the applecart, truly self-obsessed or too far out to care.
Uncompromising and unpredictable, our cover stars are Sacramento's ferocious noise-rap trio Death Grips, who take no prisoners when it comes to getting their message across. Lining up for battle, they reveal to Clash exactly what their mission is.
A rare interviewee, Jimmy Cauty delivered us subversive posters. Clash wrestled him for an epitaph for The KLF.
Elsewhere, Andrew Weatherall, Micachu, Gravenhurst and Matthew Herbert share an 'outsider' album that remains significant to them.
Plus: the 50 greatest outsiders, MF Doom, Jeremy Deller, Nicolas Jaar, The Black Lips, The Bug and Dr John.