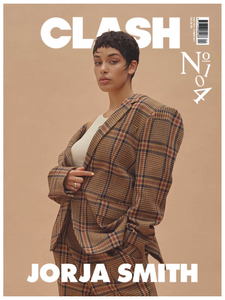 Clash Issue 104 Jorja Smith
The second of four cover stars for Issue 104 of Clash is rapidly rising star of UK street soul, Jorja Smith.
Hitting the headlines with a couple of Drake co-signs, the 20-year-old West Midlander is more than just a feature. Her own brand of R&B is a rich melting pot of jazz and classical influences, and is propelled by a fierce independent spirit that isn't afraid to touch on controversial issues - key track 'Blue Lights' tackles the topic of police brutality and prejudice towards her black male friends.
"I don't like preaching to people, shoving things in their face," she tells Clash, "but I stand up for what I believe. I always want to make something with a meaning. Not just crap!"
A dedicated role model to be proud of, Jorja Smith is a symbol of empowerment to a new generation of women.
Also in the new issue are features with Shawn Mendes, Travis Scott, Sampha, Mac DeMarco, Mick Fleetwood, Maggie Rogers, Glen Matlock, J Hus, THEY., Alexandra Savior, Anne-Marie, Goldie and much more.