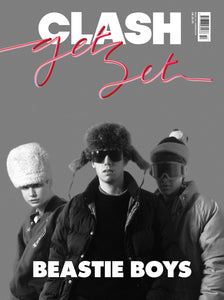 Clash Issue 110 Beastie Boys
Back in 2004, the 
Beastie Boys
 released their sixth studio album, 'To The 5 Boroughs'. Their first post-9/11 outing, it not only offered love, hope and compassion to their hometown, New York City, which was still coming to terms with the invasive tragedy, it also looked beyond the Manhattan skyline to address sociopolitical issues on both a national (gun control, rigged elections) and global (environmentalism, the war on terror) scale.


The world was changing, becoming an unrecognisably aggressive place at an alarming rate because right-wing scaremongers were exploiting our fears for their own capitalist gains. The Beasties had to speak out; from the record, their song 'It Takes Time To Build' is an impassioned plea to keep world leaders in check, and asserts that it's actioning positive progress that requires the most courage.


"Wanna change things up?" they prompted. "Well, hey, 
get set
."


Fourteen years later, in a culture that's had to fight to escape suppression from an increasingly conservative state, where consumption of the arts has been reduced to just another digital distraction in our days spent working unremittingly to beat the recession, the call for brave creatives resounds louder than ever - yet so few respond.


"It's easier to sit back than stick out your neck," the Beasties remonstrated, and it's with this mettle that the hip-hop pioneers complete this issue's quartet of cover stars who dared to make their voices heard.


As surviving members 
Mike D

 
and 
Ad-Rock
 visited London to bring to life their band autobiography, Beastie Boys Book, which uniquely celebrates their fallen colleague Adam "MCA" Yauch as much as their innovative career, Clash Editor-In-Chief Simon Harper met the pair to discover that the lifeblood of their boisterous brotherhood is unstoppable.


Also featured in this issue is s
lowthai, Christine And The Queens, 6LACK, Neneh Cherry, Saba, Calpurnia, Swizz Beatz, Rico Nasty, Saweetie, Roger Daltrey
, and much more.


**Please note: Shipping from December 20th 2018.**