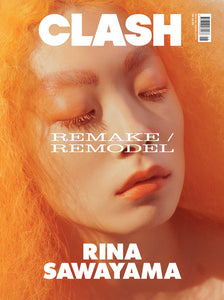 Clash Issue 106 Rina Sawayama
Clash is delighted to present digi-pop sensation 
Rina Sawayama
 as the second of four cover stars of Issue 106.


Celebrating innovation and proactive progress, this issue pays tribute to the kind of artists who pave their own paths, and bring us all along for the ride. Rina Sawayama sounds like the future, despite her reverence for the past. Injecting Darkchild-meets-Max-Martin pop with a postmodern self-awareness, the Japan-born and UK-raised musician and model is a DIY digital age pioneer.
In our interview - Rina's first ever cover story - she discusses living life online, her dispiriting time spent at Cambridge, and her fierce commitment to representation for East Asian artists. It's a colourful introduction to a fast-rising star whose ascent is currently uncharted.
"Success last year was not having to worry about bills and money," she says. "Now, it's doing things that haven't been done before."
Joining Rina in this compelling issue is Natalia Dyer, Shame, R.E.M., BØRNS, blackbear, Mike Love, Roy Woods, David Guetta, Not3s, Prince, Yxng Bane, Yonaka, and much more.


**Please note: Shipping from January 30th 2018**