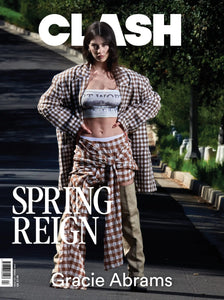 Clash 124 Gracie Abrams
Gracie Abrams is the fourth face of Clash Issue 124.
The songwriter's debut album 'Good Riddance' represents a point of graduation. When Clash meets her backstage, she's just finished distilling her thoughts on the page of a black-bound diary - a serial journaler, she wants to record her feelings as they pass.
With her life changing by the second, Gracie Abrams has so much to impart during this intimate cover conversation - her creative methods, her desire for perfection, and why she believes that personal growth is her ultimate priority.
She tells Clash: "I'm changing in radical ways…"
Elsewhere in this issue, Clash is illuminated by the rapture of avant-R&B aesthete Kelela, and sits down with Grammy-nominated Gabriels, before engaging with the transformative energy of Chris. You'll also explore the soulful realm of Fousheé, and meet the pan-genre sonic voyager KAM-BU. 
We'll pin-point daine's avant pop futurism, and gain some life lessons from seminal UK rapper Avelino. You'll be granted an audience with Grammy-winning saxophonist and songwriter Venna, before diving into the realm of Black Lips, the seminal 90s queer theatrical collective which centred around ANOHNI.
Pre-Order your copy of Clash 124 now. Copies will be shipping globally from April 14th onwards. Please allow sufficient time for your copy to arrive.
Words: Zoya Raza-Sheikh
Photography: Lindsay Ellary
Fashion: Kat Typaldos
Creative Direction: Rob Meyers
Hair: Bobby Eliot
Make-Up: Loftjet