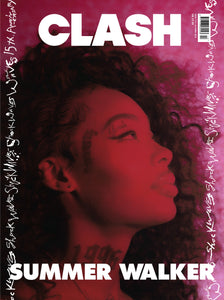 Clash 113 Summer Walker
With every new issue of Clash that hits the streets, there's a resounding impact that we all here feel. It's an immediate response; a tangible acknowledgement of the time, effort and thought we put into each and every page within. These are our shock waves in action, and it's this affecting concept that connects the six cover stars of issue 113.

The third of which, Atlanta's unapologetic enchantress Summer Walker, is making her mark on the world by ensuring that truths are best communicated by exposing all; in her fierce vulnerability we hear all our own hopes and fears.

Breaking out last year with the stunning mixtape 'Last Day Of Summer', which saw Walker burst onto the scene with her brand of raw, honest R&B, her debut album, 'Pony', which dropped earlier this month, confirmed that her habit of exposing herself with every track she writes is what draws her fans in, and makes them hang on her every word.

"You've gotta be vulnerable when it comes to writing songs," the songstress tells Clash, "cos you don't know who else might be going through the same stuff, and it might help them out."

Also featured in this issue is Rex Orange County, FKA twigs, Sam Fender, Kindness, Ray BLK, Not3s, Stereophonics, J Rick, Take A Daytrip, Aitch, Jax Jones, and many more.