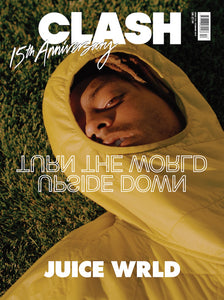 Clash 112 Juice WRLD
Over the last 15 years, Clash has faced all the slings and arrows that come with being an innovative independent publisher in an industry rooted in tradition. While there have been stupendous highs, we have also endured through challenging lows, growing and learning with the experiences. Our unique voyage has been shaped by these contrasting perspectives and the ability to rise further with new insights, and so with this new issue we are recognising the unconventional artists who withstand hardships to turn the world upside down.

The fifth and penultimate cover star of issue 112 is hip-hop's confessional maverick, Juice WRLD, a young man full of problems and promise who rarely has had time to consider his own journey so far.

He pours his heart into his music, cough syrup into his Sprite, and is about to bare his soul to thousands of adoring fans who idolise him and find catharsis in his work. There is a true optimism in revealing, and then attempting to transcend, the darker side of his emotional anatomy, allowing it to exist through his music and not only through his personal troubles. He is someone that, through his art if not his practice, is willing to know himself and allow others to know too.

"I talk about shit that other people are scared to talk about," he tells Clash. "Other artists or rappers feel like they got an image to portray, so they don't talk about certain things - as if everybody don't feel the same shit. We all got fuckin' problems, and fuckin' feelings."

Also featured in this issue are 070 Shake, Mahalia, Dev Hynes, Beth Ditto, These New Puritans, Lil Miquela, Conan Gray, Grace Carter, Valee, Sheryl Crow, and much more.