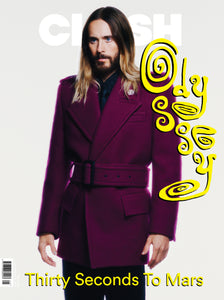 Clash Issue 125 Thirty Seconds To Mars
One of the biggest bands on the planet, Thirty Seconds To Mars is rooted in the relationship between two brothers. Acting in symbiotic nature to their familial status, it helps enrich – and is in turn enriched by – their relationship, embodying the evolution of their passions, tastes, and ambitions.
In this revelatory cover conversation Jared Leto opens up about the band's dynamic new album, and the radical shift in their art. With brother Shannon Leto growing as both a producer and a songwriter, Thirty Seconds To Mars are able to tackle challenges they've long dreamed about, but never dared to embrace.
Utilising melody, electronic production, and no small degree of pop sensibility, their work condenses an encyclopaedia of information into a contagious run of breathlessly ambitious songwriting - both dark in intent and glaringly bright in tone. As the album title has it, 'It's The End Of The World, But It's A Beautiful Day'...
Jared Leto tells us: "It's true, simplicity is a skill but it's also a discipline…"
Elsewhere in this issue you'll enter encounter Atlanta pin-up Victoria Monét, and resonate with the insight of Brian Eno. You'll enter the world of afro-pop colossus Amaarae, and embrace the communal values of newgen junglist Nia Archives. We'll witness the impact of viral risers No Guidnce, while AntsLive cements his role as a mercurial rap talent. There's space to discern the club culture fantasies of Jayda G, and explore the soulful realm of much-tipped songwriter Mnelia.
Pre-Order your copy of Clash 125 now.
Issue 125 will be shipping from 5th August.