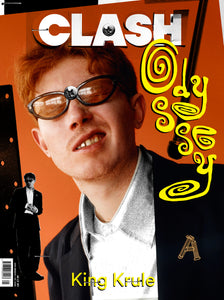 Clash Issue 125 King Krule
King Krule is the first face of Clash 125.
When Clash first met King Krule a decade ago he was a fresh-faced songwriter attempting to pick his way through the hype. Expectation threatened to bury him, but. instead his defiance left him energised, and in the process made him stronger.
Since then, he's only become even more resolute. One of British music's truly unique voices, King Krule's work is rooted in truth, and his absolute commitment to honesty.
Take latest project 'Space Heavy' – an album that might rank as his masterpiece, it's a daring work of undiluted creativity, stubbornly unphased by the expectations that surround him.
When Clash meets King Krule once more, we find an artist dealing with the commitments of adulthood, balancing his attentiveness as a parent to strictures his art places on him. Through it all, however, he remains a staunch defender of his musicality, and the gospel of sincerity.
As he puts it: "I can't just compromise my art for capital…"
Elsewhere in this issue you'll enter the world of afro-pop colossus Amaarae, and embrace the communal values of newgen junglist Nia Archives. Viral risers No Guidnce threaten to break the glass ceiling for UK R&B, while AntsLive cements his role as a mercurial rap talent. We'll discern the club culture fantasies of Jayda G, gain life advice from Dexys' singular frontman Kevin Rowland, before exploring the soulful realm of much-tipped songwriter Mnelia.
Words: Tara Joshi
Photography:  James Robjant
Fashion: Harry Clements
Creative Direction: Rob Meyers
Collages: Patrick Waugh
Pre-Order your copy of Clash 125 now.
Issue 125 is shipping from 5th August.