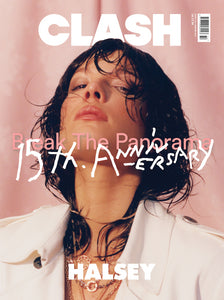 Clash 114 Halsey
Not only is Clash 114 the last issue of the year, it's also the last issue of the decade. As 2020 approaches on the horizon, it brings with it the opportunities of new beginnings: a reawakening, where the pursuit of self-improvement is paramount for future survival.
The six cover stars that arrive with Clash 114 are timely reminders to break the panorama - each daring to challenge the accepted landscape and offer fresh perspectives on life.
Multifaceted pop queen Halsey is the first of these: a refreshingly arresting, boundary pushing, fully formed and outspoken artist who's perfectly comfortable tackling subject matter like mental health issues, feminism, LGBTQ+ rights, and sexuality in her music. Her forthcoming album, 'Manic', is a cathartic project that embraces the manic episodes she experiences.
"At first I was intending to write something that was really angry and volatile and angsty and self-deprecating and unreliable," she tells Clash. "I wanted to write an album about mania, and that's what my understanding of it was at the time. And I kept sitting down to write like that, but it felt kind of performative. I did some greater self-inventory and self-forgiveness, and then the faucet opened. The writing became easier upon my discovery that I actually get on with my manic self a lot more than I thought I did."
Also featured in this issue is JPEGMAFIA, AJ Mitchell, Lolo Zouaï, Patti Smith, Nick Mason, Akon, Pop Smoke, Maisie Peters, The Beatles, and many more.
**Please note: Shipping from December 16th 2019.**