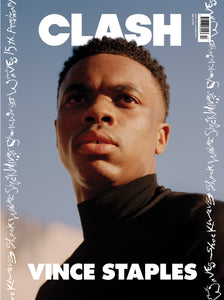 Clash 113 Vince Staples
Staying one step ahead of expectations has always been what makes creating each issue of Clash such a thrilling experience; we spend weeks putting together such a contrasting collection of content that half the excitement of unleashing it on the world is just seeing what the reactions to it are.

In placing pop princesses alongside grizzly rockers, and assertive rappers next to humble jazz heads, we always say to expect the unexpected with Clash, and then we sit back and watch the aftermath of diverse audiences meeting somewhere in the middle.

Issue 113 of Clash features six cover stars who all share a common predilection for dropping vivid bombshells on their similarly unexpecting following.

The fifth of these, mindful maverick Vince Staples, is a rapper whose chief purpose is to create, to surprise people with what he puts out, and not to have his motives questioned. His wry countenance and flair for pointing out life's absurdities and society's hypocrisies make him an attractive tonic to a hip-hop industry that primarily seems only interested in dealing with extremes.

Set to return with his fourth album, 'The Vince Staples Show', he tells Clash that his next moves are, of course, as unpredictable as ever.

"What I've learned over time, in music and art in general, is that you can't really expect anything," he says. "You need to approach everything with open-mindedness and try to see something new. Because I try to see something new every time. I'm just trying to create something I've never created before. I don't really like to repeat that stuff, just trying to get better and do something new every time, whether it's a song, whether it's this show, whether it's anything."

Also featured in this issue is Miguel, Summer Walker, Rex Orange County, FKA twigs, Sam Fender, Kindness, Ray BLK, Not3s, Stereophonics, J Rick, Take A Daytrip, Aitch, Jax Jones, and many more.